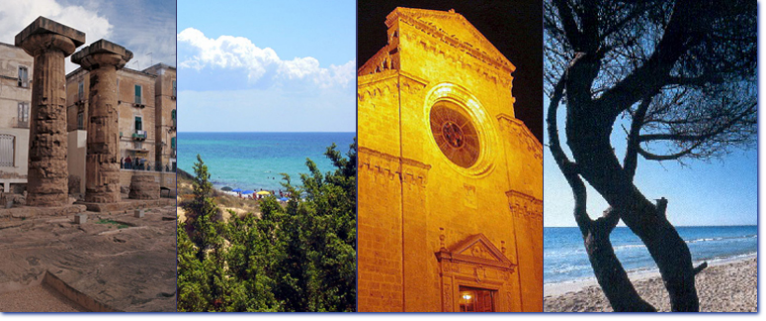 For those who love sun and sea, a few steps from Lune saracene there is the beach of Commenda (Ayala), with its sea clear and clean: is a place appreciated by the gay community.







Always on the Ionian Sea, although further away, there are the cliffs of Porto Selvaggio, in the natural park, is another destination highly coveted by the gay people, together with the beaches and pine forests of Punta della Suina in Gallipoli and of Terzo Cavone in Scanzano Ionico. On the Adriatic sea are worth a visit to the rocks of Torre Incina in Monopoli and the beachs of lakes Alimini, just before Otranto.





As for history, architecture and art, there are many possibilities: from white Ostuni to elegant Martina Franca, from tha castles of Oria, Torricella, Avetrana and Mesagne to the delightful old town of Maruggio, Manduria and Francavilla Fontana, from the workshops of ceramics of Grottaglie to museums of Brindisi and Taranto, from the fabulous landscapes of Valle d'Itria and Alberobello to the famous caves of Castellana, from the baroque splendor of Lecce to the charm "finis terrae" of S. Maria di Leuca, the beauty will surprise you anywhere. Finally Matera, where you can enjoy the magical atmosphere that always give its Sassi.